Achari Bhajiya & Fritters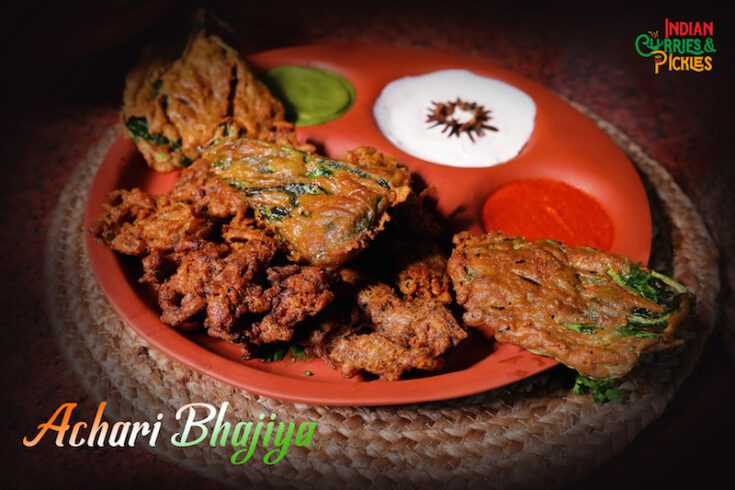 Bhajia (also called as pakoda or fritters) is a trendy snack in Indian. Piping hot and crispy fritters are ideal for monsoon and winters. Traditionally we encase sliced, chopped
veggies or cubes of cottage cheese in chickpea flour batter and then fry till
golden brown.

In the sixteenth century, Portuguese and Spanish ships would stop in Indian on their way to Japan, and Indian cooks taught the Europeans how to make vegetables and pakoras.

Most historians agree that Indian pakora (also known as bhajiya) is at the origin of what eventually became Tempura, a delicacy from Japanese cuisine.

Prep Time 30 minutes

Cook Time 30 minutes

Total Time 1 hour
Ingredients
Mustard oil
250g Chickpea flour/ Besan batter
1teaspoon Red chilli powder
1teaspoon Salt
1 teaspoon Garam masala
3-4 teaspoon Pickle masala
3 Sliced onions
A pinch of bicarbonate of soda
A pinch of Hing
25g Chickpea flour/ Besan batter
200g Marinated cottage cheese
3 sliced potatoes
Few spinach leaves
Instructions
Make besan batter half an hour before making bhajia, keep the mixture pasty and not very thin.

Add oil in the pan or a wok and let it smoke properly.

Add sliced onions and salt, red chilli powder and pickle masala to the batter, mix well and coat the besan properly on the onion slices.

Add a pinch of hing before frying bhajia to add aroma.

Fry the mixture adding to the pan in small portions and keep the flame on medium while frying.

Let the bhajia turn golden and crisp, flip it occasionally.

Take out from the pan and soak the oil on a kitchen towel before serving.

Serve hot with pudina chutney or your favourite dip.

For fritters make the batter and add salt, red chilli powder and a pinch of soda, coat the cottage cheese properly with besan and fry till golden brown.

With the same batter, make fritters with the rest of the vegetables.

Serve crisp and hot with tea or coffee.
Amita Thakur Dogra is a felicitated Indian author and a renowned culinarian. Through her writing and culinary skills, she intends to portray evoking stories for mind and soul. Her cooking encourages fresh and local food, featuring regional spices and original recipes. 
Indian Curries & Pickles is her lockdown-baby. She started it during the lockdown to swallow the creative juices.  She contemplates to take it to another level, promoting authentic Indian recipes curated by our ancestors. Click here for her YouTube Channel