As much as I love Diwali and look forward to it every year, the dreaded Diwali ki Safai (Cleaning during Diwali – the festival of lights) ingrained in our heads by our Moms is a chore, a task that cannot be ignored. Legend also has it that if you leave even one pebble unturned and not sparkly clean – Goddess Lakshmi will not visit you – and who wants to risk that with the Goddess of Wealth!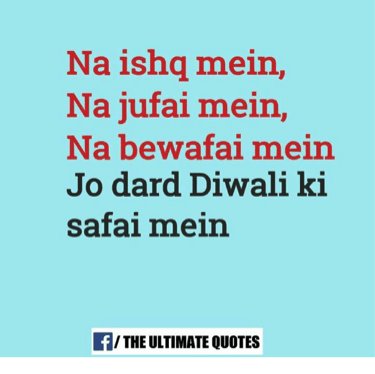 Living in the NCR we have a lot to deal with during this period. So, I think there is more scientific and sustainable reasoning behind Diwali Ki Safai. The weather changes and it's an opportune time to purge one's wardrobe and clear lofts at the altar of Diwali ki Safai. It's great when you're turning over your summer wardrobe to make room for those woolies that you clean and sanitize the cupboards as well as give away worn-out clothes. And so, the cleaning games begin!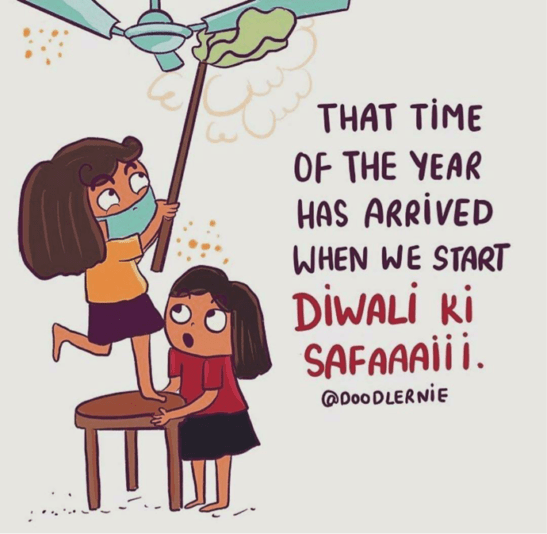 Image Credit:https://www.instagram.com/doodlernie/
I'm talking about the all-new cool and shiny Dyson V 11. This machine is a superhero version of the Dyson V8 ( which I had waxed eloquent about earlier – https://gurgaonmoms.com/the-challenges-of-a-cleanliness-freak-mom-in-gurugram/)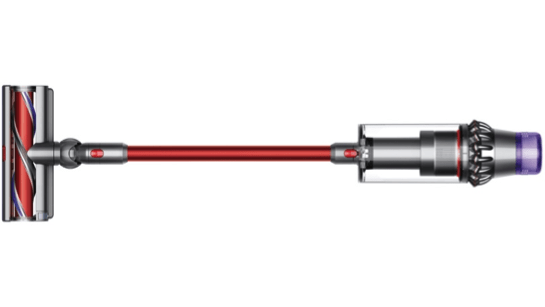 It comes with enhanced features and is designed to make your cleaning faster and easier. Thus leaving you with more times to enjoy those Zoom parties and make some delicious snacks and sweets for your family. You will feel so accomplished once you are done with your deep cleaning earlier than anticipated with this machine.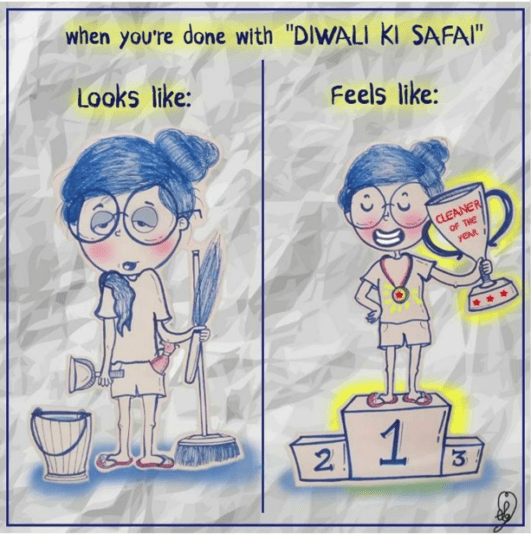 So let's talk features and there are some serious ones here!
1.Suction: The V 11 has a super strong suction which eliminates particles that even we cannot see. Simultaneously it expels clean air into the room.
Wait !! Whaaaat??
You mean during peak pollution days I can clean, not sneeze at the udtha dhool (flying dust), and have cleaner air?
Wow! You sure Harry Potter has nothing to do with this?
2.Attachments: This machine has some very twisted stuff- In a good way! It has up top cleaning attachment that can clean behind your sofas and on higher up shelves- without displacing your furniture (or back!) You won't even have to get the stepladder out
3.The long and short of it : Its long wand-like handle can be shortened in a snap to clean mattresses or take it down to your car to give it a thorough cleaning.
You must be thinking – Girl! I don't have a power outlet near my car -what use will a vacuum be! Well, viola! The Dyson V 11 is cordless and has great battery life. Superior to the V 8 – this beast can be used for an hour on a full charge
So yes your wheels are gonna be sparkling ready for Goddess Lakshmi if she wants to go for a spin!
My top tips for a thorough deep cleaning this Diwali. I like working from top to bottom so any residual dust can fall down to be sucked up by my V11.
There is no bharosa (surety) of the sun in the NCR so I start attacking my woolens soon after Dussehra. I empty my lofts- Dyson them. All quilts and blankets receive a bit of sun and then are Dyson-ed and covered with a bedsheet. Currently, my house does look a bit like a dhobhi ghaat! Said lofts are then filled up with summer bedding – which in turn will be Dyson-ed
I also start taking down boxes which have Diwali lights, Rangoli stencils and diyas. These are kept way up in my storeroom and gather dust. So the Dyson feature comes so handy to clean those shelves. Their delicate brush attachment is safe enough to vacuum your lights and torans too.
I then move onto the beds. The entire mattress gets cleaned and flipped. Then we also clean under the bed. Super easy with the Dyson.
This is one time of the year I also like to change my dhurries. I vacuum the cotton light ones and bring out the warmer and cozier heavy carpets. This looks and feels warm and definitely protects the floors better. The Dyson is a boon compared to traditional methods as the dust doesn't fly everywhere.
I also de summerize all wardrobes. Winter uniforms come into play after Diwali holidays ( sadly not so this year ) But this is a good two – in- one opportunity to put away summer clothes and bring out winter ones. I pack away some clothes in suitcases in case I plan to travel to a warmer place. The rest are put away in Dyson-ed draws and cupboards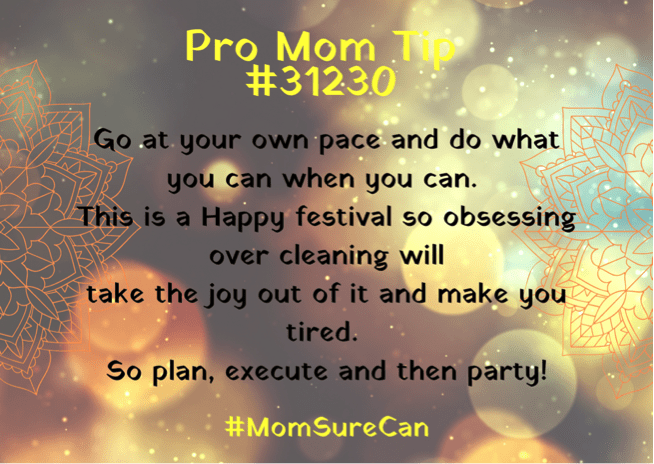 We've all had a challenging year! Yes, Covid has turned the world upside down. We've leaned on each other and it's about time we cleaned for each other The Dyson is so simple to operate that your teens and tweens are going to actually want to chip in with the cleaning this time. And when you see the dust accumulated in the transparent receptacle you will realize just how much dust is around us. It's a wholehearted BOGO( Buy One Get One free) in the Dust department down here in the NCR What's more with all the emphasis on clean surfaces this machine will give you the peace of mind of a really really deep deep Deepawali cleaning!
To find out more I was given a very informative briefing by the Dyson executive. The demo and detailing happened over a video call and that sealed the deal for me. He showed m how the machine works and answered all my questions so patiently. If you wish to receive a call to sign up for a video demo click here
Do check out more reviews by GurgaonMoms member Shagun Singh here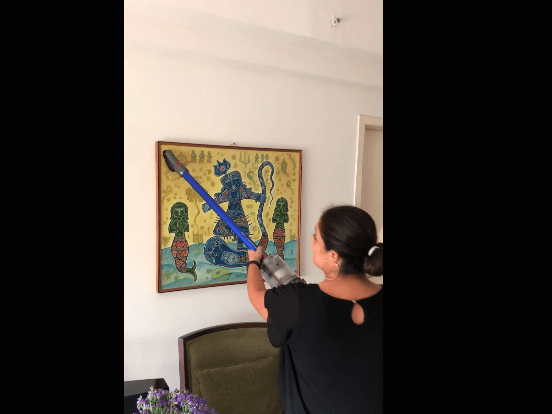 This article has been written by 
Upasana Mahtani Luthra, Director- PR, GurgaonMoms Director GurgaonMoms Book Club.Mom of two teenagers and an avid book reader. Self-confessed Bollywood buff!