Oh yes, you read that right and no, I did not spell it that way by mistake. Today I am going to share with you the story of the 'hair' that was there one day and then was gone in the snip of a pair of scissors! But don't be aghast, as the saying in Hindi goes -, loosely translated to – they are easy to grow, will be back soon!  
First of all, let me share with you what drove me to share with al this story! This Mother's Day, like the rest of the world, I also ordered flowers and cake and chocolates for my mum who lives in another city. I also ordered dinner for my parents in cohort with my nephew, who stays with them. But after all that, I was left wondering if anything at all in this universe is enough to thank my wonder woman mom for all that she has done for us, for everything she has taught us, for every battle she fought for us, for every little and big sacrifice she has made for us… and the only answer I had was – No, nothing will ever be big enough! And yet, I had to try and sharing this little story seemed to be just the thing.  
So, here we go. We all know that however relaxed and nonchalant a woman may be about her appearance, the hair is always a point of vanity… well, for almost all of us, myself included!  Everyone that knows me well, knows that I have never been bothered about what brand of clothes or shoes I am wearing or what purse I am carrying. I am casual to sometimes an irritating level J! But yes, I love my hair as I believe that they are my one good feature, so yes, I am a bit touchy about them!  
A while back, we lost one of my dearest uncles to cancer. It was a long and hard fight and it hurt so much to see him struggling even though he was always smiling, always cheerful through all the pain! That was the closest we have ever been to the dreaded disease as a family and my mom, who used to tie a 'rakhi' to my uncle was shattered even though she never showcased too much. So, one day, inspired by a colleague of mine, I decided to chop off my tresses and donate them to be made into wigs for cancer patients. I shared that with my mom and my sister and they were very supportive of my decision. Even my son, who loves my hair, reassured me that it would be ok to go ahead with it.  
But as female vanity goes, I lost courage the day I was to do it. I was so ashamed that I broke down and howled for hours. Finally, I called my mom and shared with her that I had chickened out of a good cause not sure what her reaction would be. But she was so calm … she just told me that everything was fine and that I should let go of it for a while. I tried to do as she said but was very restless and just could not stop thinking about it.  
After a couple of weeks, it was a school break for my boy and we decided to visit nanu-nani's house, which is our forever happy place. It was fun times as usual once we were there with oodles of love and bowls full of yummies and the days were flying by. As I was nearing the end of my stay there, I was dying to have a heart-to-heart conversation with my mom about the incident that was not leaving my mind for the past so many weeks.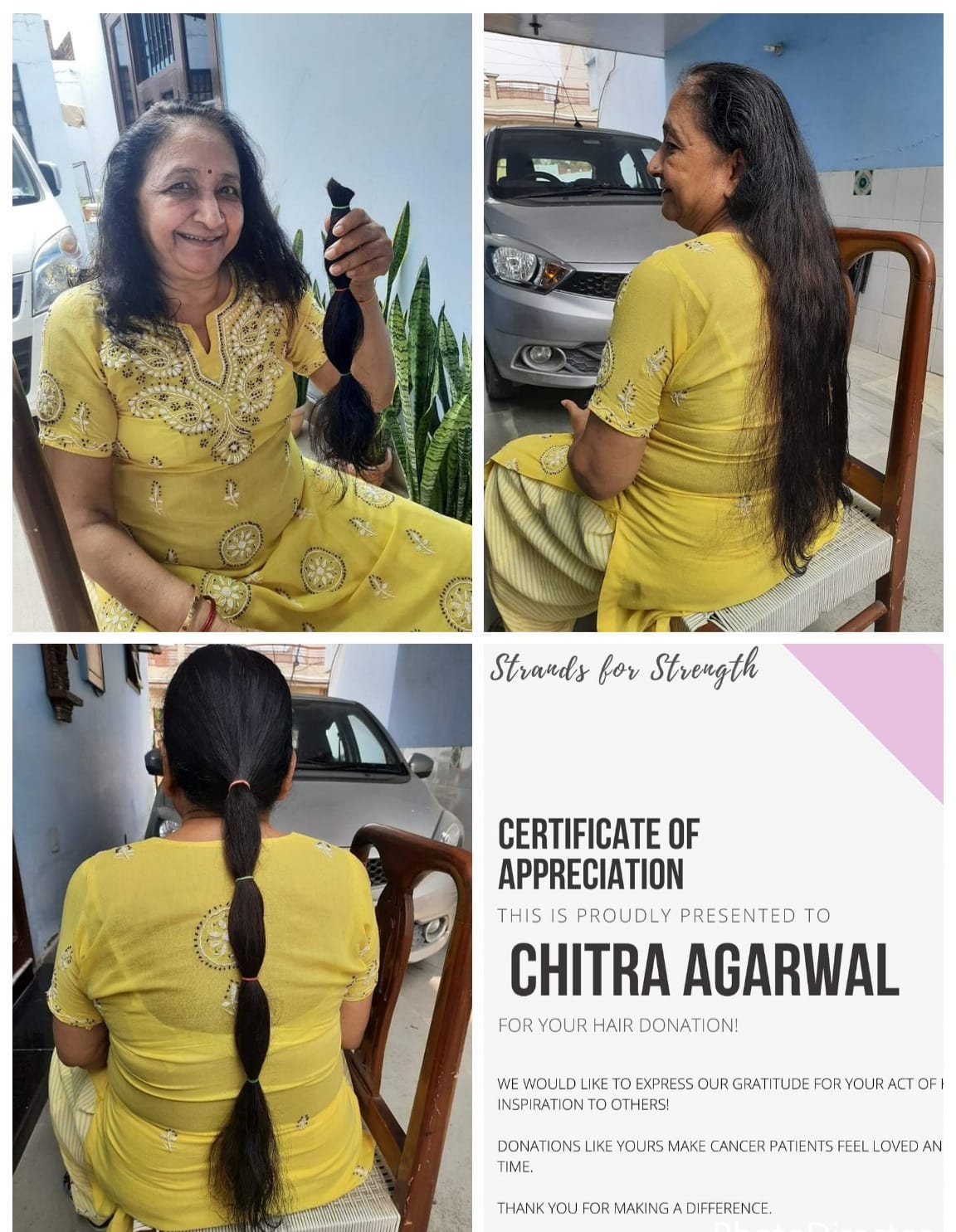 And it was like she had read my mind. Just one day before we were to leave, my mom, freshly showered and smelling of roses (her shampoo), walked up to me and silently placed a pair of scissors in my hands. I looked up at her, confused, not understanding. She pulled up a chair right in front of me and sat with her back to me… her long waist-length hair, still wet and dripping from the shower hanging down her back. I was spellbound looking at her beautiful tresses… even at the age of 70 they were thicker and healthier than mine. I was still unsure of what she was telling me and in a split second, it hit me… like lightning! And I was like – no ways ma… but she just turned around and looked at me smiling and nodded her head.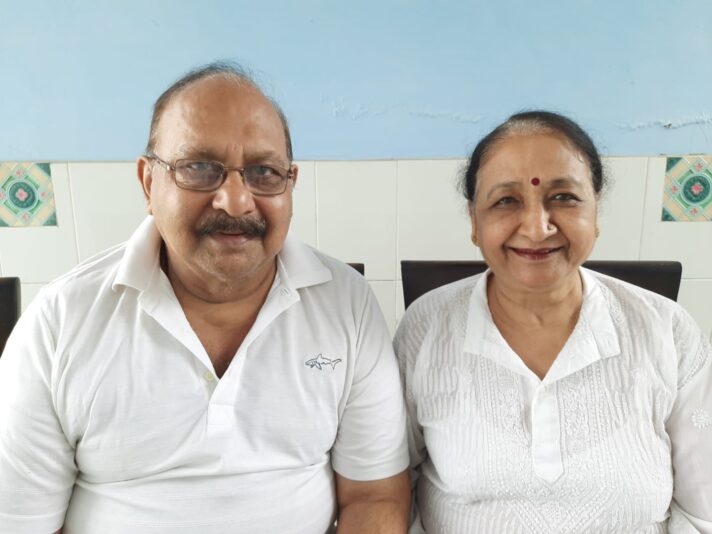 My parents have been married for over 40 years and in all those years, my mom has always dressed and made herself up as my dad loves to see her… glass bangles, red and yellow coloured sarees, big red bindi and of course… her silky, shining crowning glory… her long hair. And in that one moment, both of them, especially my mom, put it all aside and decided to do this unbelievable thing, this huge gesture of support for me, to know and understand that it was the right and noble thing to do!
 I had tears in my eyes and my hands shook, but my father held me and helped me snip away at my mom's hair… 16 glorious inches gone in 16 seconds!   My tears were streaming non-stop as I held her hair in my hands and she hugged me tight and spoke the words that always make my heart dance with joy. She said, "I am so proud of you," but at that moment, it was me who was so proud of my mom and dad for their unwavering support and love always.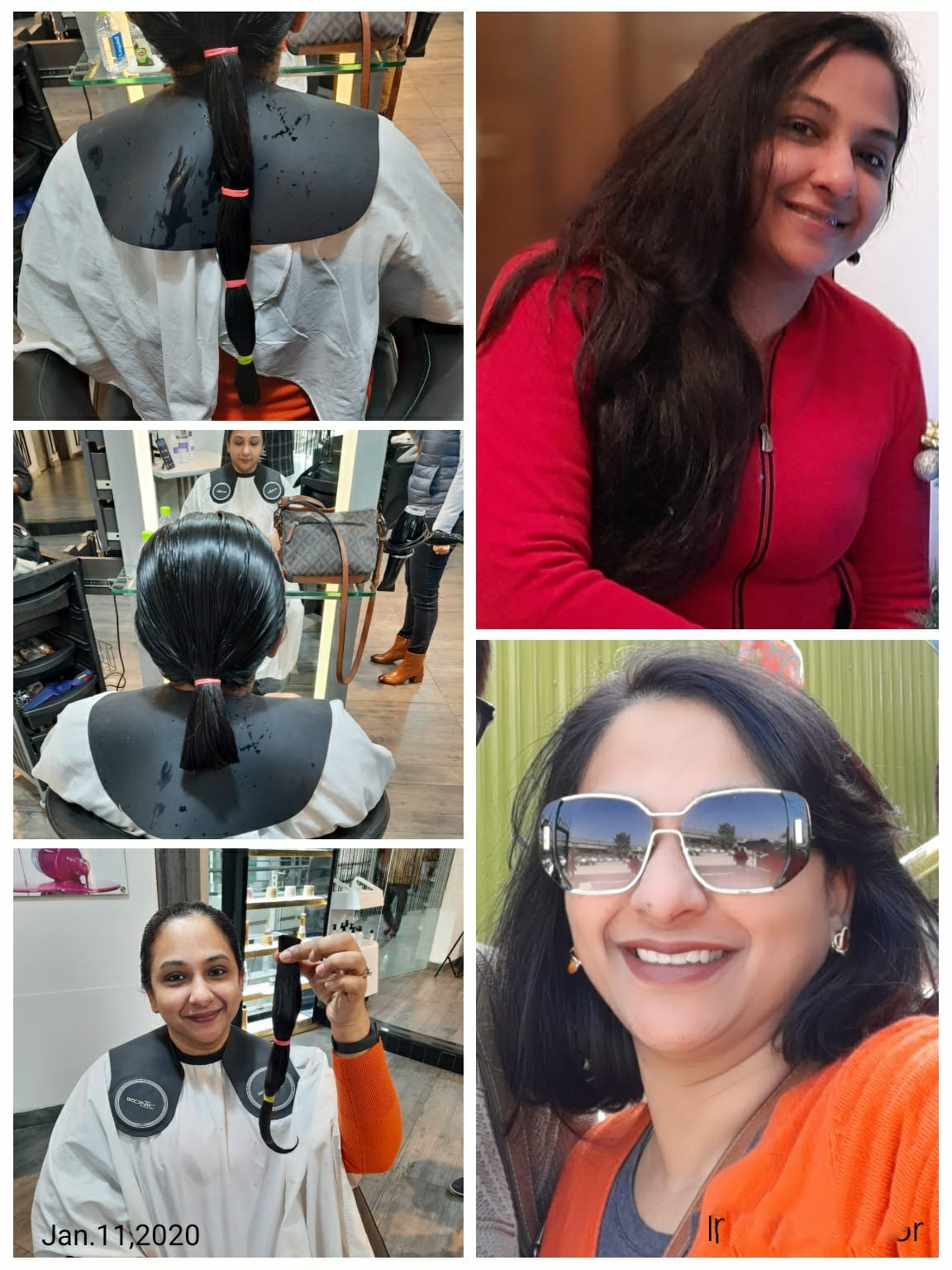 Once I got back home, I finally got my hair cut real short and I also had about 12 inches to give away. The hair was then nicely packed up (as per the instructions received from the organization that makes wigs for cancer patients) and shipped off the next day. They send us certificates of appreciation for the gesture, but believe me; I already had the biggest certificate ever – my parent's awesome upbringing, love, and support!  
Love
Mukti Agarwal
Insta: muktiagarwal_official  
Details of the organization we donated to:
 Strands For Strength
3, Princeton Court, Merewether Road, Colaba, Mumbai-400001