Halloween is celebrated each year on October 31. It originated with the ancient Celtic festival of Samhain when people would light bonfires and wear costumes to ward off ghosts.Halloween is celebrated globally now and has evolved into a day of activities like trick-or-treating and carving jack-o-lanterns.
We have curated some of the happening Halloween parties in Delhi -NCR  for both kids and adults along with some special recipes by the chefs.
RECIPES BY CHEF ASHISH SINGH FROM CAFE DELHI HEIGHTS
Vampire Eye 
Ingredients
120g unsalted butter, at room temperature
300g caster sugar (or fine white granulated sugar)
2 no eggs
80ml cooking oil
10g unsweetened cocoa powder plus 1 tablespoon extra for dusting
45ml red food coloring (liquid, not gel)
10ml pure vanilla extract
20ml white vinegar
350g plain cake flour, sifted
1 teaspoon baking soda (bi-carb soda)
1 teaspoon salt
250ml buttermilk*
Cream Cheese Frosting:
400g cream cheese (not spreadable), at room temperature
120g unsalted butter, at room temperature
2 teaspoons pure vanilla extract
200 icing sugar
Method
For Cake:
Heat oven to 350°F | 175°C. Lightly grease two 8-inch cake pans with butter or nonstick oil spray and lightly dust with 1 tablespoon of the sifted cocoa powder.
Cream butter and sugar together until light in color. Add eggs one at a time, beating well after each addition to combine well.
In a smaller bowl, mix together oil, remaining cocoa powder, red food coloring and vanilla until smooth. Stir color mixture and vinegar through the creamed sugar mixture to combine.
Sift together flour, baking soda and salt in a separate bowl. Add half of the dry ingredients and half of the buttermilk to the wet ingredients; mix well. Repeat with remaining dry ingredients and buttermilk.
Divide batter among the 2 prepared pans and bake for about 25 to 30 minutes, or until a toothpick inserted into the center of the cake comes out clean. Cool on a wire rack completely.
For Cream Cheese Frosting:
Beat together cream cheese, butter and vanilla until smooth lighter in color (about 3-4 minutes). Beat in icing sugar until frosting is light and fluffy (if frosting is too thin, add more icing sugar and beat again until reaching your desired consistency).
Assemble Cake:
Transfer 1 cake onto a serving dish/plate, flat-side down. Trim the top dome off of the cake to create a flat bottom later. Scoop about 1 1/2 – 2 cups of frosting onto cake and spread evenly over the top.
Place second cake layer on top and use remaining frosting to cover top and sides of cake.
Crumble trimmed pieces of cake to decorate.
NOTES
*To make your own buttermilk, mix 1 cup of full cream milk with 1 teaspoon vinegar before baking. Allow the milk to sour for 5-10 minutes.
Blood Curdling Soup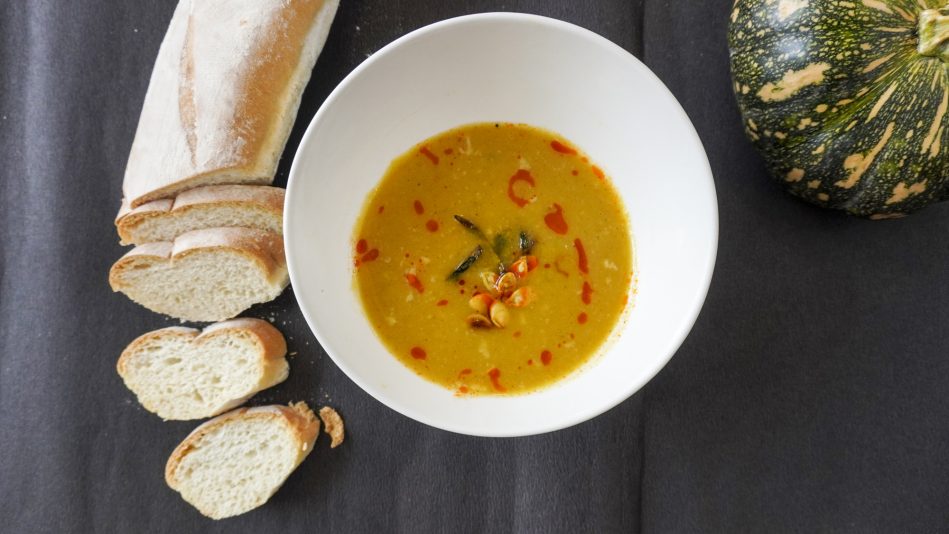 Ingredients
Pumpkin — 500 gm.
Salt — to taste
White Pepper – 2 gm.
Bay leaf — 2 gm.
Honey – 20 ml
Green cardamom – 2 gm.
Aromatic broth — 2 gm.
Curry powder – 3 gm.
Olive oil — 50 gm.
Carrot — 50 gm.
Leeks —- 20 gm.
Celery – 20 gm.
Cheddar cheese — 30 gm.
Chili oil – few drops
Pumpkin seeds – 5-7 no
Pumpkin skin – 8-10 juliennes
 Method
Preheat the oven at 425°F.
Cut the pumpkin into quarters and keep the seeds aside for garnish.
Take a baking sheet, put the pumpkin pieces and drizzle with 2 tablespoons of the olive oil, salt & honey. Bake in preheated oven until tender, 45 minutes to 1 hour. Cool until easy to handle.
Remove the skin & blend it to puree in food processor, till it reaches smooth consistency.
Heat remaining 2 tablespoons olive oil in a large saucepan over medium flame, add green cardamom, bay leaf, celery , leeks, carrots slice, salt; cook for few minutes by stirring occasionally, until vegetables are tender(Don't cook till it turned brown.)
Add salt, white pepper, curry powder; cook further stirring often. Add aromatic broth and cooked pumpkin; bring to boil, then cover it with lid and simmer it & cook for few minutes.
Remove from fire and strain it to remove the whole spices.
Put on flame again in a pan, add cheese & stir occasionally with help of whisker, check the seasoning, remove from fire.
Serve hot garnished with chili oil, fried pumpkin seeds & fried pumpkin skin juliennes.
RECIPES OF COCKTAILS BY MIXOLOGIST NAVJOT SINGH FROM PRANKSTER
Bloody Whisky Sour
Ingredients
Whisky 60ml  ,
Blood orange juice 25ml,
Angostura 2 dash
Lime juice -10ml
Sugar-10ml
Egg white -1no.
Method
Take all the ingredients and mix in a cocktail shaker glass or if you have  dont have a shaker blend it in a blender take a whisky glass and pour over the ice
Garnish it with a halloween prop and edible blue and red color
Spooky Fizz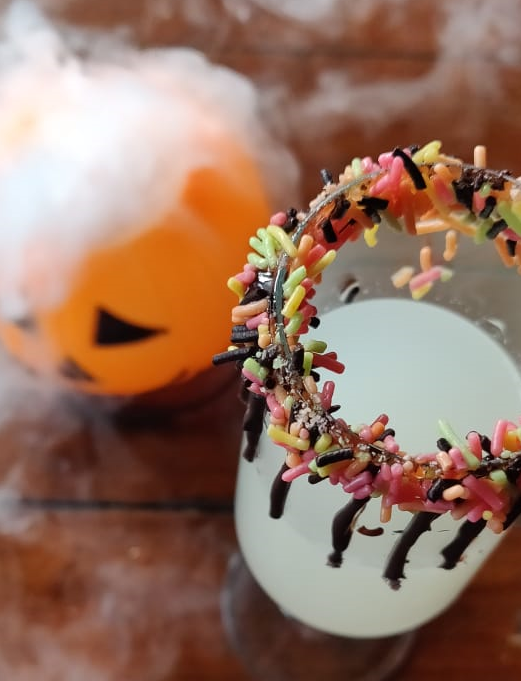 Ingredients
Chilli vodka – 60 ml
Cucumber syrup – 25ml
Lime juice -15ml
Splash of soda to top it up
Method
Shake all the ingredients together except the the soda in a shaker and strain it into a champagne glass and just top it up with splash of soda to keep it fizzy
For chilli vodka – Fuse 5 green chillies into 500ml of vodka for 24 hours and strain it.
RECIPES BY CHEF ANAS QURESHI: MOLECULE 
Mini Mexican Toastada
Ingredients
75 grams Whole corn flour
4 pc Tostada Base
60 grams Refried beans
35 grams Tomato salsa
25 grams sour cream
10 grams coriander leaves
20 grams micogreen packet
Salt and Pepper as per taste
Method 
Take 75 gms whole corn flour and add 1 gm salt and white pepper .
Mix with approx 30 ml water to make dough
With the dough make 4 small tortilla of 2.5 inch. Fry and dry it.
Top it with refried beans, salsa, sour cream
Garnish with fresh coriander and Micro Greens
Edible Lava Coal
Ingredients
150 grams Cottage Cheese
60 grams curd
8 grams Milk powder
5 grams green chilli
4 grams coriander fresh
Salt / Yellow chilli / Pepper /Elaichi powder as per taste
75 grams charcoal powder batter
75 grams refined oil
10 grams Microgreen packet
2 edible flowers
50 grams tomato
10 grams sweet chilli sauce
Method
Crumble the paneer mix it with chopped coriander, chopped green chilli, cardamom powder, milk powder and salt .
Make 4 cylindrical shaped with above mixture stuff it with curd, chopped kismis, chopped green chilli and chopped coriander.
Make lava ash with dehydrated tomato, salt and degi mirch
Dip this mixture in charcoal batter and fry
Garnish with Lava ash, Tuli, e